At Peter Becker Community, you'll enjoy the conveniences of residential senior living – plus all the perks and pleasant surprises that come with being a resident at a vibrant senior living community. Our selection of life-enhancing wellness programs, attractive amenities, delicious dining options, and time-saving services makes Peter Becker Community the perfect place to live in the winter.
Keep reading to find out more about the stress-relieving, convenient amenities at Peter Becker Community in lovely Harleysville, PA.
Amenities at Peter Becker Community
We offer you more than simple conveniences; our services and amenities are designed to give you the freedom to pursue what you love most, especially during the cold winter months. As a resident of Peter Becker Community, regardless of your level of living, it's only a short walk or drive to the amenities you regularly need. 
In our community, your life will rarely be impacted by the normal pitfalls of winter weather. You'll have access to an on-site pharmacy for all your medications, a chapel with ecumenical services to stay in touch with your spiritual side, and restaurants to enjoy meals in (meals that you don't have to grocery shop for or prepare).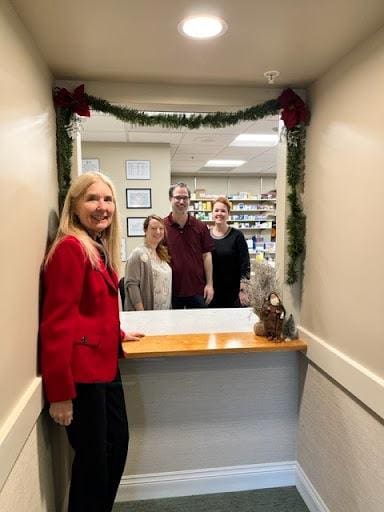 Getting the exercise you need during winter is easy with our gym, fitness rooms and spacious wellness studio. We also provide on-site ways for you to treat yourself, like the Maple Corners Gift Shop or Crescent Corner Thrift and Furniture Store for a little bit of guilt-free splurging.
We also provide several convenient services to alleviate your winter woes.
Services at Peter Becker Community
During the Pennsylvanian winter, Peter Becker Community's maintenance and snow removal services grant peace of mind for both residents and their families. These help to ensure that you or your loved one lives in comfort whether they're going for a short stroll or prefer to stay in with a cup of tea. 
Some of the conveniences you can look forward to include:

Standard cable television

Complimentary weekday on-campus shuttle

Weekly transportation to local shopping

Fee-based medical transportation

Hosting and catering service for private parties

Response call system, including individual pendants
We hope this has given you a general overview of what to expect as a resident of Peter Becker Community in the winter, when it's easiest to embrace life's little treasured moments. As a Continuing Care Retirement Community, or CCRC, we specialize in Residential Living, Personal Care, Skilled Nursing, Rehabilitation, Memory Care and Hospice Care.
Learn more about Peter Becker Community's services and amenities in beautiful Montgomery County today.