When the breeze feels chilly, and the leaves start to change color, it means Autumn has officially begun. There's nothing like decorating for the fall season. This is a great opportunity to express your creativity and create a craft to celebrate this crisp and cozy time of year.
"Older adults who participate in creating art benefit their well-being in so many ways," says Barbara Keller, Vice President of Marketing and Sales, of Peter Becker Community, a senior living community in Harleysville, PA.
Studies show that seniors who participate in the arts felt a positive impact on their morale and decreased feelings of depression and loneliness.
"Creativity promotes healthy aging. That's why we encourage residents in our community to get involved with art on campus, like our woodworking shop," Keller added.
Whether you're a crafting extraordinaire, or the ultimate fall lover, or you want to tap into your creative side, these perfect fall crafts for seniors are a great way to have fun with the new season.
1. Autumn Wreath
Hanging a wreath on your door is a great start to decorate for a new season and a must for autumn crafting. Making your own autumn wreath is an easy and fun craft where you can put your own twist on the classic decoration.
First, you need a wreath base. You can use grapevine for a rustic feel, or you can use a metallic base and plan on covering it with your decorations.
Then, you need items to decorate your wreath. Leaf garlands, autumnal ribbons, sparkly picks of pumpkins or leaves, and faux fall flowers are all available options. You can glue the decorations or wrap the materials around the wreath base.
When it's all done, you can display your beautiful wreath on your door for all to see.
2. "Welcome Fall" Sign
Greeting the new season with a Welcome sign on your porch or in your house can brighten up the space with a touch of color and a friendly message. All you need is wood plaques and acrylic paint.
Then the rest is entirely up to you. You can use stencils or freehand your "Welcome Fall" sign. You can also use other phrases like:
Happy Fall, Y'all!
Home for the Harvest
Hello Fall/ Hello Pumpkin
Welcome to Our Pumpkin Patch
After painting on your favorite phrase, you can paint the rest of the area with anything you want: fall leaves, a pumpkin patch, or polka dots of your favorite fall colors. The final step is picking the best place to display your sign.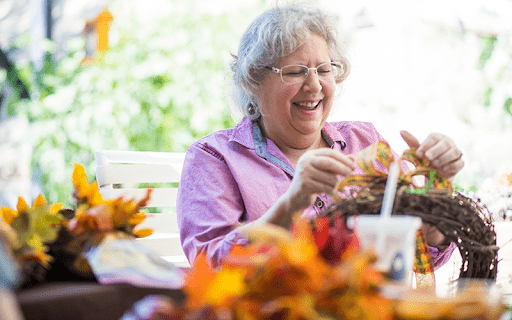 3. Pumpkin Painting
A cleaner alternative to carving a Jack-o-lantern, you can paint your pumpkins to show your autumnal creativity. You can paint a face like a jack-o'-lantern, paint the pumpkin an entirely new color, or add your own design. Check out these pumpkin painting ideas for inspiration.
4. Cinnamon Stick Candle
The smell of cinnamon can add a soothing aroma to your living space. Creating a cinnamon stick candle also incorporates soft lights, making this craft ideal for those blustery October days.
You need cinnamon sticks, an artificial candle, and twine to create a cinnamon stick candle. Place each cinnamon stick around the candle so it creates a ring.
Then, use the twine to wrap around the sticks and tie it in place. You can wrap around the bundle as many times as you want – having a larger section of twine also gives you a space to add a final touch like a bow.
5. Pressed Leaves
Pressed leaves are a beautiful subject for a scrapbook. After you've pressed your leaves, you can glue them into the scrapbook and decorate each page however you want. You can add notes about the type of tree the leaf came from, notes about the day, or add items like stickers and other scrapbooking pieces to make the page as colorful as possible.
To press leaves, follow these instructions:
Go outside and collect some leaves from the ground.
After you have the amount you want, go inside and get pieces of paper towel and a heavy book.
Fold the paper towel piece in half, and place one leaf in between the fold.
Place the paper towels with leaves into a book (preferably a heavy book).
Add additional books on your pressing book to weigh it down.
Wait for a week, then check leaves. If they still have moisture, let them sit for another week. Your goal is to dry the leaves out completely.
When your leaves are dry and pressed, carefully remove them from the pressing book.
You're ready to start your pressed leaves scrapbook!
6. Halloween Treat Jars
Many people look forward to fall because it contains the sweetest holiday – Halloween. Having a Halloween treat jar gives you a themed craft to put your candy for when company comes – or for when you're craving a small treat.
Follow these steps to make a Halloween treat jar:
Use a clean glass jar (you can recycle a jam jar)
Pour acrylic paint into the jar and use a paintbrush to cover the inside. Use vibrant Halloween colors like ghostly white, electric green, pumpkin orange, or a dark purple. Let the paint dry.
Then, use a window marker to draw a face on the outside of the jar. If you painted the jar orange, you may want to make a Jack-o-lantern face, a ghost's face if your jar is white, or anything your imagination guides you to create.
Don't forget the most important step: add candy to your jar!
Discover the Creative Opportunities at Peter Becker Community
At Peter Becker Community, residents have all kinds of opportunities to find the artist within.
Whether creating a fall craft with others, painting in the creative arts and crafts studio, or building something in the woodworking shop, beginners and experts alike can practice their skills and let their creativity come to life.
Call us for a tour and learn more about all the fun ways to be creative at Peter Becker Community.