Cottages at Pondview
Senior Housing Near Philadelphia
Located in Harleysville, a suburb of Philadelphia, Cottages at Pondview is an exciting new pocket neighborhood at Peter Becker Community.
Featuring 30 cluster cottage homes complete with picturesque front porches, Cottages at Pondview is artfully – and conveniently – arranged around a beautifully landscaped, shared courtyard. Many cottages have a great view of our campus pond and historic red barn.
Then, just outside your door await everyday conveniences that enhance your lifestyle. From a campus full of amenities and services to delicious dining options and life-enhancing programming you can treasure with friends, Peter Becker Community is the perfect place to enjoy freedom, opportunity, and a true neighborhood feel.
A Nostalgic Pocket Neighborhood Design
in Harleysville, PA
Upon arrival at Cottages at Pondview, you'll feel like you're stepping back in time. This unique community feels like returning to an era where neighborhoods were designed to encourage interaction among neighbors.
From catching up on front porches to making new friends and lending a helping hand, it's the perfect living option for those seeking a stronger sense of community and a more caring, supportive, safer and connected place to live.
Are you or a loved one looking for senior living homes near the Philadelphia area? Discover the lifestyle Peter Becker Community residents are enjoying today.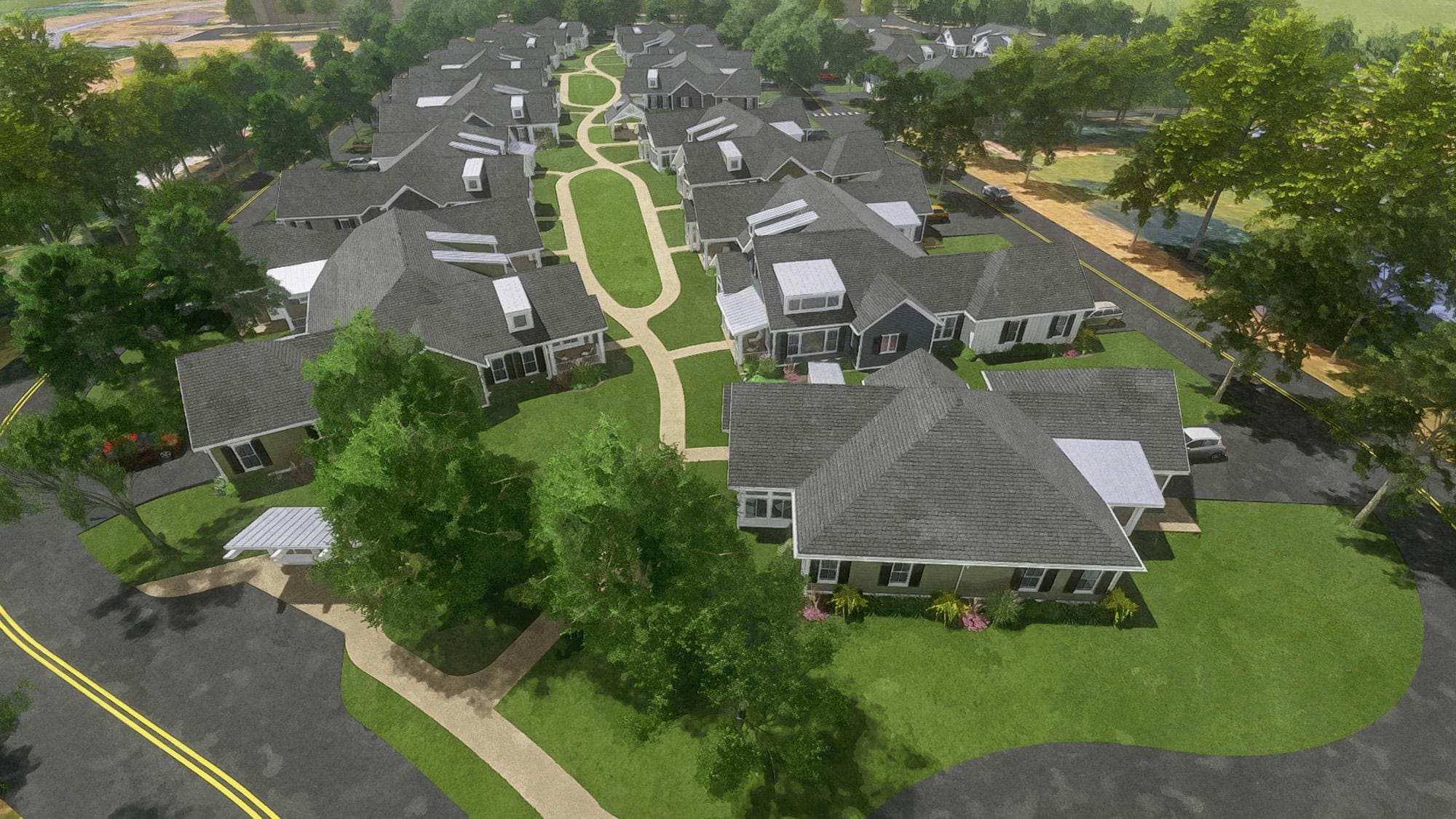 Get an Inside Look at Cottages at Pondview
Get a front-row preview into what Cottages at Pondview has to offer by visiting virtually with our videos below.
Small Neighborhood, Large Lifestyle
Whether you're used to the busy living of Philadelphia, PA, or you're situated in a smaller neighborhood, Cottages at Pondview provides a lifestyle that's well suited to both.
Here, you can be as busy as you want to be with endless opportunities for social interaction, or you can be as private as you want to be, enjoying peaceful reflection, scenic views, or your cottage home. No matter your preferences, there are plenty of possibilities that will help you live the lifestyle you've dreamed about.
Enriching Activities
Every day there's always something to do or try at Cottages at Pondview. With access to our amenity-rich campus and a variety of services, you can make the most of each day.
Pursue a new passion or hobby, check out the on-campus YMCA, enjoy educational programs and events, or try some creative pursuits. No matter what you do, you've only touched the surface of all there is to do at Cottages at Pondview.
Opportunities To Connect
Whether you love to meet with friends on your front porch or enjoy a meal with friends at our restaurant, there are plenty of ways to connect with friends, both old and new. Our neighborhood design makes it even easier. If you're ready to see all that Cottages at Pondview and Peter Becker Community have to offer, schedule a visit to check it out for yourself.
Beautiful Outdoor Setting
Cottages at Pondview is situated on a beautiful 100-acre campus complete with nature trails, a pondside labyrinth and more. Residents will also enjoy access to our greenhouse, pavilion, community garden and herb garden.
A Carefree Lifestyle
As a Cottages at Pondview resident, you will also be able to take advantage of everything Peter Becker Community has to offer while saying goodbye to home maintenance, yardwork and housekeeping – and saying hello to the lifestyle you have waited for.
Discover what awaits at Cottages at Pondview and Peter Becker Community today!
Our Senior Living Housing Choices
Whether you like the idea of a larger living space or a more intimate cottage, we have an array of floor plan options to choose from.
If you prefer a more private floor plan, a one-bedroom cottage may be perfect for you. If you love when grandkids or family members stay with you for the weekend or special occasions, our two-bedroom options may be just the right choice to make your house feel like home to them, too.
Depending on the cottage you choose, you can also enjoy a sunroom, patio, den, garage and more. If you want additional upgrades, there are plenty of opportunities for you to customize your cottage to complement your own personal styles and tastes.
To get an inside look at our floor plan options and more in-depth details, click the link below. Or to talk to our team about the average costs of our cottage homes and upgrades, contact us today!
Vernfield
Known widely as our coziest cottage style, Cottages at Pondview's Vernfield floor plan starts at 1,038 square feet. With some floor plans offering one bedroom, a master bathroom, walk-in closet, powder room, one-car garage and two porches, you can enjoy your apartment while having access to everything our lifestyle provides.
Mainland
With options ranging from a comfortable 1,422 square feet to a spacious 1,562 square feet, the Mainland floor plan might be perfect for you if you'd like two bedrooms and two bathrooms, a two-car garage, and two porches. These floor plans also offer upgrades such as a fireplace and additional wall placements to provide a more intimate space.
Lederach
Our largest cottages begin at 2,051 square feet. The Lederach floor plans may include two bedrooms, two bathrooms, a den, sunroom, two porches, and a two-car garage. There is also the option to upgrade your space to include a dividing wall between the kitchen and the living room, as well as add a fireplace in the living room.
Security for the Future.
Peace of Mind for Now.
If seniors choose to remain at home, care is often something they need to plan for or make a quick decision about as health changes occur. As part of the Peter Becker Continuing Care Retirement Community, Cottages at Pondview will provide the peace of mind of an environment that empowers residents to remain active and independent while ensuring future senior care needs are met.
This means that should medical care or health needs ever change, Peter Becker Community will have all the levels of care you require to continue living the lifestyle you love as independently as possible.
With long-term care and short-term supportive living options – including personal care, skilled nursing, rehabilitation and memory care – it's security for the future so you can make the most of today and every day.
For more information about our Continuing Care Retirement Community, high-quality health care facilities and services, visit our Supportive Services page.