Volunteering is a selfless act where you can lend a hand or listening ear to help someone, or find a cause that's close to your heart to support. A number of volunteer programs are passionate about having older adults join because of the unique experience and perspective they bring to the project. Your learned life lessons and skills can be a major contribution to a cause bigger than yourself.
You also get the mental health benefits that come with the sense of purpose, connection, and pride in your work as a volunteer.
If you're considering spending time volunteering, you'll want to look at all the volunteering opportunities for seniors to find the best match for you.
Benefits of Volunteering in Retirement
Volunteering in retirement helps keep you active, social, and connected with the local community. Studies show that volunteering offers a lot of health benefits.
The Corporation for National and Community Service reported that people age 55 and older can improve their health and well-being when they consistently volunteer. The study focused on volunteers within the Senior Corps compared to non-volunteers. Senior volunteers reported higher self-rated health scores, and they felt less depressed and isolated than non-volunteers.
Additional findings after two years of volunteering include:
84% of older adults reported improved or stable health
78% who reported symptoms of depression felt less depressed
88% of seniors felt a decrease in feelings of isolation
Joining a volunteer group can put you on a path to being healthier and happier – and help others while doing so.
Senior Volunteer Opportunities
There are endless opportunities for you to get involved with volunteering. Take a look at these groups to get some ideas for where you could start your search.
Mercy Mats
Residents at Peter Becker Community are active in making Mercy Mats – sleeping mats donated to people experiencing homelessness.
The volunteers collect recycled plastic bags and crochet them into large sleeping mats. These mats can be rolled up, making them easy to transport.
The groups donate the mats to a local church that distributes them to places where they're needed in Philadelphia. Some residents crochet hats to go with the mats, and they also donate gently used clothing.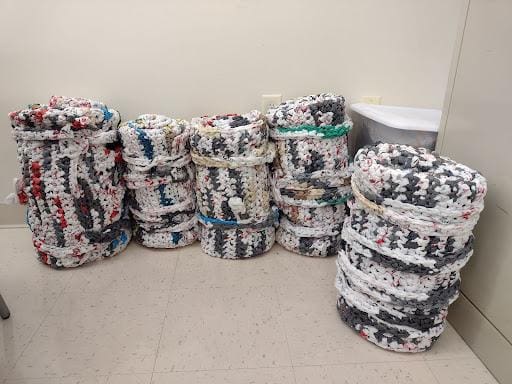 Mennonite Resource Center
Some residents of Peter Becker Community volunteer with the Mennonite Central Committee Material Resource Center. The Center is a local agency that provides resources all over the world.
These resources include:
Shoes
Cardboard
Clothes
Relief kits: buckets filled with cleaning supplies
School kits: handsewn bags – one of the residents helps sew these bags
Mission Trips
If you belong to or attend a church, you can look into volunteering on a mission trip. A Peter Becker Community resident recently volunteered on a mission trip and helped with meal preparation for the workers.
However, mission trips aren't the only way to get involved with your church. You can donate your time and help with their local events, too.
Samaritan's Purse
Samaritan's Purse is an international relief organization. One of their projects, Operation Christmas Child, provides hygienic products, school supplies, and toys to children in need around the world.
Woodworkers at Peter Becker Community used their carpentry skills to make 100 wooden toy cars for Operation Christmas Child. Previously the woodworkers made toys for children in Ukraine.
National Parks and Local Parks
This is the perfect match for you if you love the outdoors and helping preserve the environment. Volunteering with the National Park Service provides a number of different opportunities. You can help:
Maintain trails
Monitor wildlife
Staff libraries or museums in the parks
Host visitors on the campgrounds
You can also volunteer at local parks helping with maintenance, preservation, and recreational events held at the park. Some local parks in or near Harleysville include:
Local Food Banks
There are always local organizations helping people access basic necessities – especially food.
Whether you're helping with food distribution, sorting canned goods, or cooking up a meal, there's always an opportunity to help at a local food bank. You can combat hunger by helping families and individuals get the food assistance they need.
AmeriCorps
AmeriCorp Seniors is for volunteers age 55 and older. They have a wide range of volunteer opportunities. You can choose to:
Help a child learn to read
Support families affected by a natural disaster
Provide companionship to seniors who need help with daily tasks
Being involved with AmeriCorps will introduce you to a large community of like-minded people who love to help others.
Community Gardens
Peter Becker Community has a community garden and greenhouse, which you can find on the campus map. Planting seeds and tending to the garden lets you get physical exercise while doing a therapeutic activity.
Working in the community garden may also lead to new friendships as you connect over your best tips and tricks for maintaining a healthy and lush garden.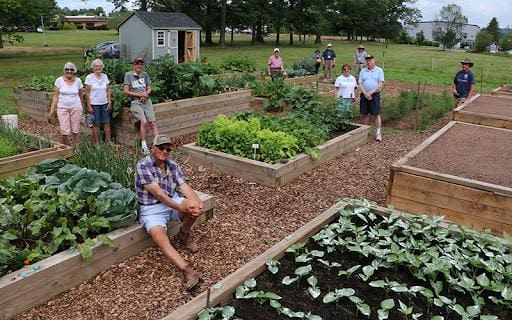 How To Get Started Volunteering as an Older Adult
With all these options and more available, you may not know quite where to start. One of the best ways to start your journey is brainstorming the following questions:
What am I passionate about?
What skills do I have?
How can I help others?
How much time do I want to spend volunteering?
Asking friends and family about their volunteer experiences or what they think you'd enjoy could also inspire you to look into other organizations you hadn't considered before.
Answering the questions and hearing from others you trust can point you in the right direction of the types of organizations you may want to join.
There are many online volunteer resources available that can help you find different volunteer positions available and keep you updated as new ones are added:
While volunteering, you can change it up as often as you like. You can try any volunteer opportunities that interest you – and it's always OK to choose new organizations and programs.
Your volunteer journey may surprise you. While you may have an idea of where you'll begin or what kind of volunteer work you'll be doing, it's possible that you will learn something new or discover a new passion.
Get Involved at Peter Becker Community
Peter Becker Community is committed to providing purpose and engaging opportunities for all our residents. Call us today at (215) 720-1087 to schedule a tour and learn more about our welcoming community.