Peter Becker Community in Harleysville, PA provides the premier retirement lifestyle for active older adults with the peace of mind that health care services are available if and when you need them. With multiple residence options across a 100-acre campus, there's truly something for everyone at Peter Becker Community.
Residences at Peter Becker Community
All the residences at Peter Becker Community are designed so you feel at home no matter where you are. There are several types of residences on the community's campus:
Cottages at Pondview
The picturesque neighborhood of the Cottages at Pondview is a beautiful place to live. Each of the 30 cottage homes have a porch and surround a courtyard that all in the neighborhood can enjoy.
There are three types of cottages:
Vernfield – starting at 1,178 square feet, this cottage has one bedroom, one primary bathroom, and one half bathroom. Some styles have a one-car garage.
Mainland – these cottages range from 1,422 square feet to 1,562 square feet and contain two bedrooms, two bathrooms, and two porches. They also have two-car garages.
Lederach – this largest cottage style is 2,051 square feet and contains two bedrooms, two bathrooms, a den, and also has a sunroom in addition to the two porches and two-car garage.
Whether you're entertaining friends on your porch or you're enjoying the view of the campus pond and red barn, you'll love life at the Cottages at Pondview.
Crescent Meadows
Crescent Meadows offers one-story single and twin cottages starting at 1,463 square feet. When you live at Crescent Meadows, you're in the heart of campus and are close to everything. With a patio, sunroom, and porch, there's always a place for you to enjoy the natural sunlight.
Maplewood Crossing
These duplex-style homes make up one of the newest neighborhoods at Peter Becker Community. This quaint neighborhood has one single cottage and four duplex style homes. Learn more about Maplewood Crossing.
Maplewood Estates
With a location that puts you close to the restaurants, fitness center, and other amenities in the community center, Maplewood Estates is a fantastic place to live. There are six different floor plans for these one and two-bedroom apartments.
One Bedroom Standard – 792 square feet
One Bedroom with Den – 995 square feet
Two Bedroom Standard – 1,087 square feet
Two Bedroom End – 1,232 square feet
Two Bedroom End Deluxe – 1,412 square feet
Two Bedroom Corner – 1,362 square feet
Ridgeview Estates
This residence option is inside the Campus Center Building and has three different floor plans. You can choose from the studio, one-bedroom, or two-bedroom options. With some apartments including a patio or balcony, you'll have a lot to look forward to each day at Ridgeview Estates.
Woodsedge Cottages
Join a vibrant cul-de-sac community of 32 mid-sized cottages where you're close to neighbors and the Campus Center. When you live at Woodsedge Cottages, you'll have the benefit of proximity to activities happening in the community. Choose between one bedroom and two-bedroom cottages and private parking.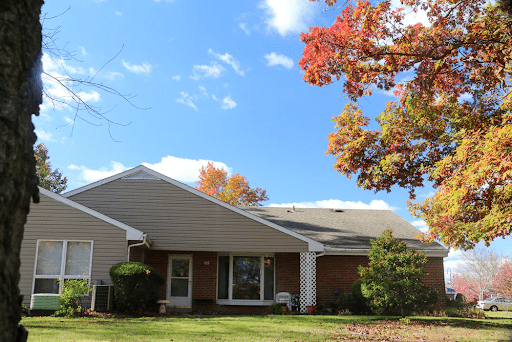 Peter Becker Community
With so many residence options to choose from, we're certain you'll find the right place to call home for your retirement. Call us today at (215) 720-1087 to learn more about our variety of residences and how to get on the waitlist – your path to a luxurious and maintenance-free life at Peter Becker Community.